Tentera Amerika membakar mayat taliban dan mencabar untuk berlawan
AhmadHadeed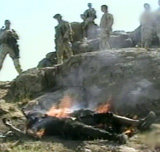 "Tertekan dengan perang gerila taliban , tentera amerika laknatullah telah membakar mayat tentera taliban untuk mencabar pihak taliban untuk berlawan. Mayat tentera Taliban yang mati di alih mengadap ke Barat dan dibakar dan loudspeaker digunakan untuk mencabar Tentera taliban supaya keluar dan berlawan.Tentera America telah menggunakan taktic yang sama di iraq dimana muslimat iraq telah dipenjara dan dirogol dengan tujuan untuk menjadi umpan bagi memerangka pihak pejuang irak supaya menyerang dengan tergopoh gapah.

Berita ini telah disiarkan di dalam tv australia SBS dalam interview dengan seorang pemberita , Dupont ,yang embedded dengan tentera america di afghanistan. Peristiwa ini telah dan direkodkan dari atas bukit dan dibenarkan oleh tentera america. Berikut adalah transcript dari footage yang menghina Islam itu.

At the top of the hills above the village the soldiers have taken the tactics of psychological warfare to a grotesque and disturbing extreme. US soldiers have set fire to the bodies of the two Taliban killed the night before. The burning of the corpses and the fact that they've been laid out facing Mecca is a deliberate desecration of Muslim beliefs.

SOLDIER: Wow, look at the blood coming out of the mouth on that one, *****ing straight death metal.

PsyOps specialist Sergeant Jim Baker then broadcast an inflammatory message over the loudspeakers in order to taunt and bait the enemy.

SGT JIM BAKER Attention, Taliban, you are all cowardly dogs. You allowed your fighters to be laid down facing west and burned. You are too scared to come down and retrieve their bodies. This just proves you are the lady boys we always believed you to be.

SOLDIER 2: The first message we sent was - Attention, Mullah Tahir, Mullah Sadar, Mullah Kairadullah, Mullah Abdullah Khan and other Taliban, we know who you are. Your time in Afghanistan is short. You attack and run away like women. You call yourself Talibs but you are a disgrace to the Muslim religion and you bring shame upon your family. Come and fight like men instead of the cowardly dogs you are.
And the second one. Attention Mullah Tahiir and other Taliban fighters, we have you surrounded, there is no way for you to escape. Come down from the mountains now and you will not be harmed. We will give you food and cold water. If you persist and stay in the mountains it will become your graveyard.
"